Upcoming Events
Kings HS Competition - Sep 7
Marching Band Photos - Sep 9
Skyline Showdown Pep Rally - Sep 11
Weekly Newsletter #11 | August 19, 2019
Donation Day - August 24!
Donation Day is this coming Saturday! On Donation Day, students in the Band and Choral programs go door-to-door to homes in the school district to solicit donations. All students in the High School Band and Choral programs are required to participate.
All Band and Guard students should report to the cafeteria on Saturday 8/24 at 9am. Groups of four students will be assigned an adult driver and a specific route of streets within the district. Each team will then go door-to-door along this route for 1-2 hours collecting donations. Students will always travel in groups, and will never enter a house or leave their driver's sight.
Our online fundraiser raised over $3000 from 76 different Band program supporters! Congratulations to Ashley Fissel for recruiting the largest number of supporters (14). Thanks to all of our Band and Guard members who contacted family and friends outside the Milford area about this opportunity for supporting Milford Bands!
Aug 27 Boosters Meeting
The next meeting of the Milford Band Boosters will be held on Tuesday, August 27 in the MHS Band Room, starting at 7pm. We welcome all attendees--come learn what the Boosters are planning for the upcoming year, and find out how you can get involved! Contact Jason Long (

[email protected]

) with any questions.
Oct 4 Party Hosts
We are still looking for senior parent hosts for the October 4 band party! Hosts provide the main course and then ask for specific donations for the evening.
If you are available to host, please contact Julie Ford
(
[email protected]
) to let her know how many chaperones you will need and what donations you are requesting.
Julie will manage the sign-up for donations.
Cookie Donations
Following their halftime performance at each home football game, the Band and Guard celebrate with cookies and drinks in the end zone. We rely on the generosity of our band families to provide these snacks. Donations of prepackaged cookie can be left with a director or in the cookie bin, which is located in the uniform closet (look for the yellow lid). Cookies such as sugar, chocolate chip, Fig Newtons, etc. are great options. Please avoid cookies with lots of chocolate, as they will melt.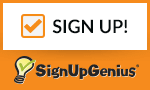 Sign up to help serve cookies and drinks after the Band's halftime performances at home football games. Two volunteers needed per game. Instructions available on the SignupGenius page.
For the past few years, the School Store has been the Band programs' biggest money maker, and we need lots of help to make it happen again this year. Rhonda Friedland and Jody Morgan will train you and work with you until you are comfortable on your own.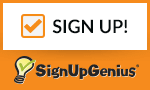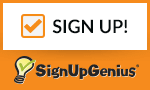 Help sell spirit wear at the home football games. Set up about an hour before kickoff and pack it all up in the 3rd quarter. You will get into the game free and you will get to see the band perform at halftime.
Band Boosters

meetings for the 2019-2020 school year will be held on the 4th Tuesday of each month (except for July and December). All meetings start at 7pm in the Milford High School Band Room. Attendance is open to anyone, and everyone is invited and encouraged to attend.
Upcoming meetings are scheduled for August 27, September 24, October 22

,

November 26

,

January 28

,

February 25

,

March 24

,

April 28

,

May 26

, and

June 23.
It isn't too late to join the Milford Band Boosters! Membership is only $10 per family and comes with a photo button of your favorite band member(s).
Milford Band Boosters President
Connect with the Boosters!